There are three copies of 'The Rubaiyat of Omar Khayyam' linked to this case.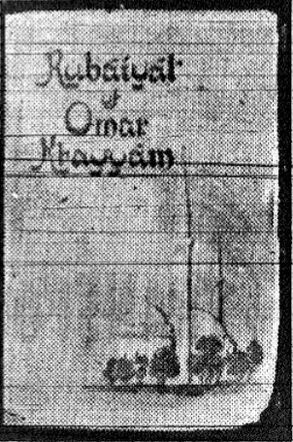 1) The Somerton Man's copy, found in the back of a Hillman Minx by "Ronald Francis". This copy was linked to the Somerton man by way of the slip of paper found rolled up in the fob pocket of the Somerton man's trousers. This was a Whitcombe & Tombs ('Courage & Friendship') edition from 1941. It was an Edward FitzGerald translation. This is the copy that had the telephone number [X3239] of a house not far from the beach where the Somerton man's body was found. This was where 'Jestyn' was living at the time, but the number was also used by her husband Prosper for his business dealings and had appeared in the local newspaper. This copy was not signed by 'Jestyn' as has been suggested. The only copy that had been signed 'Jestyn' was the copy given to Alf Boxall. There is nothing beyond the telephone number linking this copy to Jestyn.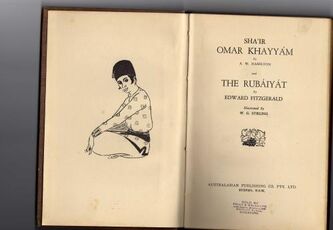 2) Alfred Boxall's Copy, this is the only copy of the Rubaiyat of Omar Khayyam we know is actually linked to Jestyn. It is the copy that she gave to Alf at the Cliffton Gardens Hotel. It was a dual language copy with the words in both English and Malay. It was printed the Australasian Publishing Co. (1944). Again this was an Edward FitzGerald translation. The illustrations were by W.G.Stirling. There is a drawing of a lady wearing a fez inside the front cover but this is not of 'Jestyn'. Before giving the book to Alf, Jestyn had carefully written out verse LXX (70) just above the drawing of the lady in the fez.
Indeed, indeed. Repentance oft before,                                      'I swore - but was I sober when I swore?                                And then and then came spring, and Rose-in-hand                   My thread-bare Penitence apieces tore.
She had signed it JEstyn
This was not a cheap copy, particularly for someone on a nurse's wage. It seems odd that she would give a copy to someone she barely knew. It also seems odd to copy verse 70, what was the true meaning behind this? Does it speak of an affair, was this her way of calling it off? Something for him to always remember her by, but to remind him of his marriage vows?
3) George Marshall's copy, this was the apparently non-existent 'Seventh edition' by Methuen & Co. Although George Marshall's body was found in a park not too far from where Jestyn was training to be a nurse, there is absolutely no evidence linking this copy of the Rubaiyat to her.
There are supposedly only 5 editions of The Rubaiyat of Omar Khayyam by Methuen. Which means that George's copy must be a fake.
Except that researchers have found 7th Editions, so either there are multiple forgeries of the 7th Edition, or there really was a 7th Edition.