We're Getting Mutants in the MCU - The Loop
Play Sound
Few people got to see the burial of the Somerton man, he was buried at West Terrace Cemetery at 9.30 am. on Tuesday the 14th of June 1949. Arrangements for the funeral were kept secret to prevent the attendance of curious sight seers. A small wooden cross was placed on the grave, bearing the words "Unknown Man". Police had to call on a newspaper reporter and a publican to assist as pallbearers. To prevent the Somerton Man being buried as a pauper, the cost of the funeral was met by the SA Grandstand Bookmakers' Association. 
For the first time in the history of the SA police the body had been embalmed and the grave site specially selected in dry ground. This was to help ensure the body stay preserved for many years, should it have been necessary to exhume it. 
The burial service was conducted by Capt. E. J. Webb, of the Salvation Army. The coroner's warrant to bury was made out for "the body of an unknown man found on the beach at Somerton on December 1, 1948. Age, address, and occupation unknown." The funeral, comprised of a hearse and one car, which left the parlours of F. T. Elliott & Sons, Port road, Hindmarsh, at 9.15 that morning. There were no wreaths. Before the casket was sealed the coroner's constable (PCC Sutherland), who had been associated with inquiries since the mystery began, viewed the body. Mr. L. A. Elliott, who was a member of both the British Institute of Embalmers and the British Embalming Society, had embalmed the body 10 days after it was found. He believed it was the longest period a body had been kept embalmed in Adelaide. The embalming was done by injecting special fluid into the veins. The case had aroused great interest among embalmers in England, and a full report was sent away by Mr. Elliott. Mr. Leo Kenny, licensee of the Elephant and Castle Hotel, opposite the City Morgue, acted as a pallbearer. He had followed the case with great interest.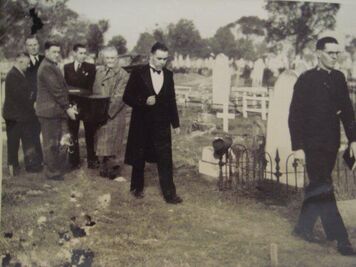 Burial of the Somerton Man on 14 June 1949. From left to right are: Bob Whitington (reporter for the Advertiser), Claude Trevelion (funeral assistant), police sergeant Scan Sutherland, Jack Elliot (brother and partner of Laurie Elliot), Leo Kenny (publican, Elephant & Castle, opposite the cemetery), Laurie Elliot (funeral director and embalmer of the Somerton man), and Salvation Army Captain E. Webb (leading the funeral prayers).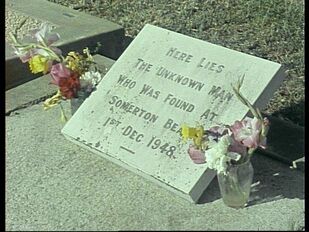 Following the Somerton Man's burial it was noticed that an unknown woman regularly placed fresh flowers in two jars on the grave. the flowers included red Gladioli, yellow Antirrhinums and Daisies. The woman was never identified.
It is entirely possible that the woman had nothing to do with the case, as people will sometimes tend to a negected grave site when visiting a friend or family member's grave. I do wonder though if it could have been 'Jestyn' herself, paying her respect to the Somerton Man, a man she quite possibly knew.