What's In A Name?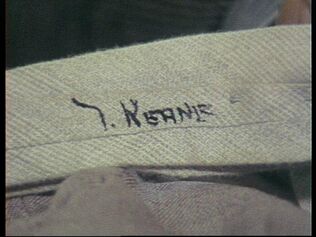 Ok, so the name written on one of the ties found in side the suitcase that had been left at Adelaide Train Station appears to be "T. Keane", also in his possessions were a laundry bag marked "Keane" and a singlet marked "Kean" with the final 'e' either missed off or worn off.
Is this the Somerton Man's name?
At the time police made extensive enquiries to ensure that nobody called "T. Keane" was missing… but it's entirely conceivable that one might have somehow evaded their net.
It is also possible that the items had previously belonged to a Mr T.Keane but had either been lost, stolen, sold, or donated to a charity shop (op shop) and then bought by the Somerton man. It is interesting that the name Keane only appears on those items where it would have been impossible to remove. The labels had been removed from most of the items of clothing. The only items that have retained their labels are the newer items that were from Australia.
Could they have once belonged to Mr T.Keane, president of the Returned Servicemen's League?
An article from The Daily News (Perth, WA : 1882 - 1950), Tuesday 8 June 1937. There is a Ted Kean (baritone) listed here as being part of the Italian Troubadours. Troubadours sang poetry and played musical instruments (just the kind of person Jestyn would have liked, I wonder if they ever played at Pakies) the spelling here is Kean without an 'e' on the end but in other papers it is spelled Keane with an 'e' on the end [1]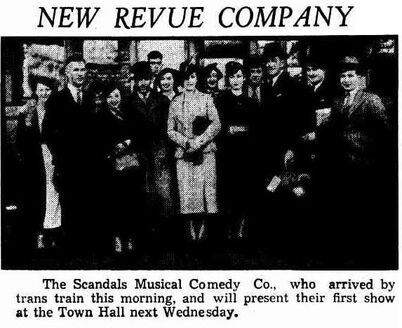 A photo of "Scandals Musical Comedy Company" from 1937, it isn't a great picture, and the cast aren't listed. Nobody jumps out at me as looking like a young Somerton Man though. [1]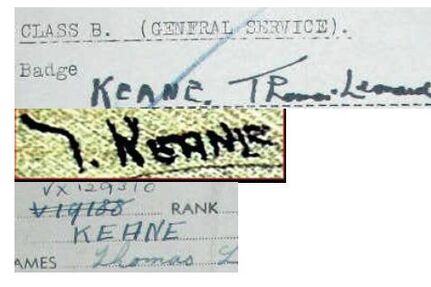 Here is a comparison of the writing on the Tie and documents contained in Thomas Leonard Keane's military service records. There are some similarities between the two, unfortunately it appears that this T.Keane died at Dandenong on 13/11/1973. He had 6 children, Margaret Mary, Annie Lorna, Francis, Mary Veronica, Kathleen, and John. His wife was Marie Elizabeth who he married 5/9/1923.  
There was also a Mr T.J.Keane who was a mayors aid in Warwick.
None of these men, as far as we know, went missing in 1948 though.
The other possibility is that it isn't actually a 'T' but a 'J' with the curve missed or worn off (it's unlikely I know, but possible). Has anyone ever searched for 'J. Keane'?