Queenie Elizabeth Constance Willder, was Prosper McTaggart Thomson's first wife. the pair married at the Church of St. Augustine (C of E), Mentone (Victoria), on the 11th of July 1936.
(Ref: Certificate of marriage No: 8783).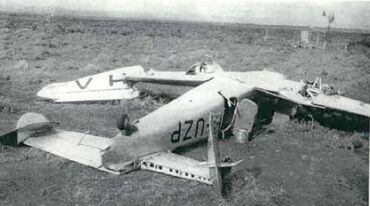 Queenie Elizabeth Thomson was involved in a plane crash on Ansett Airways maiden flight from Sydney to Adelaide, it was reported in the Advertiser, 18th May, 1946. Based on the aircraft registration VH-UZP it was a Lockheed 10B Electra. The aircraft flew into the ground in heavy rain near Virginia, S.A. while on an instrument approach to Parafield. The aircraft came to rest inverted and severely damaged with both engines ripped out. There were only minor injuries to the twelve on board and indeed all walked away from the accident. The beginnings of a fire were extinguished by one of the passengers with mud from the sodden paddock! The aircraft was struck off the Register on the same day. It is reported that the rear fuselage was in use as a pigeon loft on a property near Parafield until at least the mid 1950s.