The Tibor Kaldor first appeared on the Tamamshud blog  in 2016  and the issue of the acrostic code was found shortly afterward. Not only had an acrostic coded name been found hidden in Tibor Kaldor's last letter, we found that there was also a strict numerical sequence for the carrier words and letters within that code, the sequence was 4,5,6,7,8,9 and 10. Seven consecutive numbers linked to individual letters. Those letters spelled out the name DANETTA.
Just 4 days after the finding of Tibor Kaldor's body in a bedroom of the Victoria Hotel in Hindley Street, Adelaide another example of an acrostic coded word but this time it was found in a newspaper ad placed by Prosper Thomson.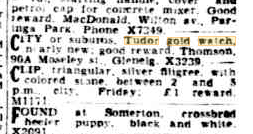 The ad to the left reads as follows:
                      TUDOR   CITY  (or)  SUBURBS
Inside those first 4 words, "CITY or SUBURBS. TUDOR" are the letters of the name TIBOR, could that be a coincidence do you think? Well, before you make that decision, let's take a look at the placement of those letters within the carrier words:
T = 1st letter in Tudor
I = 2nd letter in City
B = 3rd letter in Suburbs
O = 4th letter in Tudor
R = 5th letter in Tudor
This ad appeared on the 18th of December, just 4 days after Tibor's apparent suicide.
Yet again, as in Tibor's last letter and the acrostic name, we have another strict numerical sequence pointing out the letters and resulting in the name:
1,2,3,4 and 5
Interestingly, it was the second and third letters from 'CITY' and 'SUBURBS' that repaced the second and third letters of the word TUDOR making the new word/name, TIBOR
What's more, the same approach has been used as in a reversed sequence, the letters move from right to left positions and then back again to the right. In Tibor's last letter, the letters moved from towards the end of the shortened paragraph to the first line of the message and then back down again.
More Acrostic code examples have been found in the SM Code page, in Verse 70 and in another ad having Prosper's phone number.