m

m

Line 3:
Line 3:
 

[[File:Tudor_Goldwatch_Ad48.png|frame|left|Tudor Gold Watch Ad 5 days after Tibor Kaldor was found in the Victoria Hotel, Hindley Street, Adelaide.]]The ad to the left reads as follows:

 

[[File:Tudor_Goldwatch_Ad48.png|frame|left|Tudor Gold Watch Ad 5 days after Tibor Kaldor was found in the Victoria Hotel, Hindley Street, Adelaide.]]The ad to the left reads as follows:

 

===="CITY or suburbs. Tudor gold watch.  Nearly new, good reward. Thomson, 90a Moseley St, Glenelg  X 3239"  ====

 

===="CITY or suburbs. Tudor gold watch.  Nearly new, good reward. Thomson, 90a Moseley St, Glenelg  X 3239"  ====

 
+
−

====Look in particular at the first four words:====

+

====Look in particular at the first  words:====

 

====                      TUDOR   CITY  (or)  SUBURBS====

 

====                      TUDOR   CITY  (or)  SUBURBS====

 
 
---
Revision as of 19:24, 5 December 2019
The Tibor Kaldor first appeared on the Tamamshud blog  in 2016  and the issue of the acrostic code was found shortly afterward. Not only had an acrostic coded name been found but we also a strict numerical sequence for the carrier words and letters within that code, the sequence was 4,5,6,7,8,9 and 10. Those words spelled out DANETTA. And now here is another example of an acrostic but this time in a newspaper ad placed by Prosper Thomson just days after Tibor Kaldor was found dead in a Hindley Street, Adelaide, hotel room.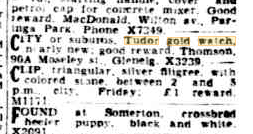 The ad to the left reads as follows:
"CITY or suburbs. Tudor gold watch.  Nearly new, good reward. Thomson, 90a Moseley St, Glenelg  X 3239"  
Look in particular at the first few words:
                      TUDOR   CITY  (or)  SUBURBS
Inside those first 4 words, "CITY or SUBURBS. TUDOR" are the letters of the name TIBOR, could that be a coincidence do you think? Well, before you make that decision, let's take a look at the placement of those letters within the carrier words:
T = 1st letter in Tudor
I = 2nd letter in City
B = 3rd letter in Suburbs
O = 4th letter in Tudor
R = 5th letter in Tudor
This ad appeared on the 18th of December, just 4 days after Tibor's apparent suicide.
Yet again, as in Tibor's last letter and the acrostic name, we have another strict numerical sequence pointing out the letters and resulting in the name:
1,2,3,4 and 5
What's more, the same approach has been used as in a reversed sequence, the letters move from right to left positions and then back again to the right. In Tibor's last letter, the letters moved from towards the end of the shortened paragraph to the first line of the message and then back down again.
Is this part of the unraveling that we have been working towards? Before we can be absolutely certain, there is more to do and follow up on not the least of which is the yet to be released post on more words found in Tibor's last letter and they also follow a logical sequence.
It was a standard tradecraft practice for seemingly dumb ads to be placed as a form of clandestine communication, Prosper's ad certainly appears to fit the bill.