Joseph (George) Saul Haim Marshall died in 1945, in Ashton Park, Mosman, not far from where Jestyn was living at the time. He also had a copy of the Rubaiyat of Omar Khayyam. Is there a link or this just a strange coincidence?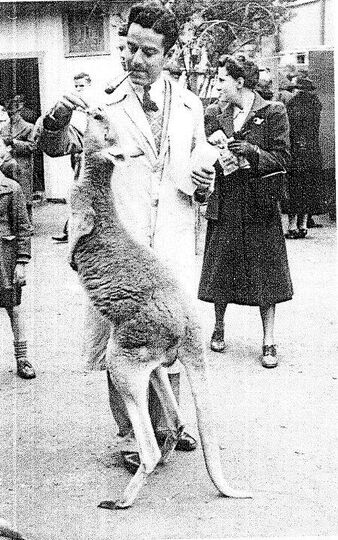 This is "George" Joseph Saul Haim Marshall. His Hebrew name was Yosef Chaim Saul ben Yisroel. This photo was presumably taken in Taronga Zoo. (Can anyone confirm this?)
His permanent place of residence appears to have been Perth. His occupation was listed as a "price investigator." This would have been for the Prices Commission. It seems that he travelled to Sydney on a regular basis as he had a flat in Sydney. He had disappeared from his flat in Wylde Street, Potts Point, Sydney on May 19.
He was found dead, in Ashton Park, Mosman, on a ledge of rock over-looking Taylor Bay on the 3rd June 1945.
A copy of the Rubaiyat of Omar Khayyam lay on his chest.
The book had a pencil mark against the lines:
Ah make the most of what we yet may spend,
Before we too Into the dust descend;
Dust into dust, and under dust to lie.
Sans wine, sans song, sans singer and-sans end.
[Quatrain 23] 
A few inches from the his left hand was a glass tumbler, a lemonade bottle containing some liquid, and a powder. His head was resting on a newspaper dated May 20, and it seems reasonable to assume this indicated the date of his death. Reg Johnston, of Bond Street, city, found the body as he was walking through the bush. It was believed to be a suicide, particularly as he had previously attempted suicide before. The estimated date of death was May 21st, 1945.
Marshall was the brother of David Saul Marshall who was a Singaporean politician and lawyer who served as Singapore's first Chief Minister and was the founder of Workers' Party of Singapore, one of the two dominant parties in Singapore.
Could this case involving poison and a copy of the Rubaiyat of Omar Khayyam have been the inspiration for a copy-cat case in Adelaide in 1948? 
Interestingly he had shared a meal with a woman by the name of Gwenneth Dorothy Graham on May 19th, the day he disappeared. He had sent her a cheque for £200 to start her own hair dressing business. Gwenneth later gave evidence at the inquest into George Marshall's death and shortly after that committed suicide. It seems like a very strange set of events to me, and I wonder if there is more than meets the eye in this sad story.  .