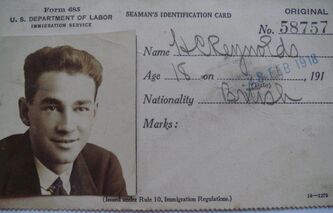 In 2010, an Adelaide woman contacted biological anthropologist Maciej Henneberg about an identification card of an H.C.Reynolds that she had found in her father's possessions. The card, a document issued in the United States to a foreign seamen during WWI, was given to Henneberg for comparison of the ID photograph, to that of the Somerton man. While Henneberg found anatomical similarities in features such as the nose, lips and eyes, he believed they were not as reliable as the close similarity of the ear. The ear shapes shared by both men were a "very good" match, although Henneberg also found what he called a "unique identifier;" a mole on the cheek that was the same shape and in roughly the same position in both photographs.
"Together with the similarity of the ear characteristics, this mole, in a forensic case, would allow me to make a rare statement positively identifying the Somerton man."
The ID card, numbered 58757, was issued in the United States on 28th February 1918 to H.C. Reynolds, giving his nationality as "British" and his age as 18. Note, just because the card says "British" doesn't eliminate Reynolds being born in Australia. Many Commonwealth citizens back then were officially part of the British Empire.
There is absolutely no independent piece of information of fact linking this card to the Somerton Man Case. It is a completely random find and of questionable providence. There was a Horace Charles Reynolds with a 1900 birth-date. His family, who were living in Tasmania were tracked down in 2010, they positively identified the seaman's card as belonging to Horace Charles Reynolds who died 18th May 1953.
So in all probability, H.C.Reynolds in NOT the Somerton Man.