We're Getting Mutants in the MCU - The Loop
Play Sound
During the Second Word War cigarettes were rationed, even after they were taken off the ration list they were still in short supply. In 1948 most shops only stocked a limited range of the more popular brands. It would have been common for a smoker to purchase a packet of loose tobacco and papers to roll their own cigarettes. It was cheaper this way and dependant upon how sparingly you rolled your cigarettes, you could make your tobacco go a long way.
'Tailor made' or 'Ready rolled' cigarettes were more expensive and something of a luxury item. Cigarettes could be purchased in packs of 10s or 20s, shopkeepers would often sell them loose as well.
p. 28 of the inquest that states that the Somerton Man's fingers were nicotine stained and that he was an 'inveterate smoker' and tobacco remnants were found in one of his pockets.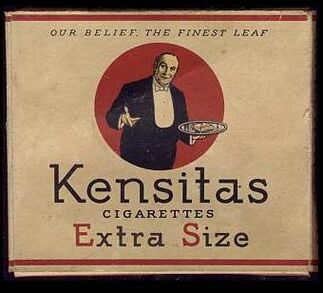 Kensitas were developed by a company called J. Wix, who also developed the first coupon redemption programme in regard to tobacco products. In the early years they also had "premiums" in each pack. While other tobacco companies had a card in each pack, Kensitas gave away what was known as a "silk" (which was actually an embroidered piece of silk). These silks came in several series; Flowers and Flags of the World were the most popular.
The company also issued albums in which one could display their collection. Today, Kensitas silks are very much sought after. Collecting cigarette cards was very popular, as were the coupon redemption schemes. In both Great Britain and North America, cigarette premiums were quite common, both cards in the earlier days and coupon redemption schemes, which took over in the late 50s. In the US, these were centered on the Raleigh/Bel Air brands; in Canada, a brand called MarkTen had a coupon printed on the face of the top flap of the slide part of the pack. These differed in size from "One Point" on a 20 pack to "Two Points" on the 25 pack. The company issued a catalogue which showed the premiums you could redeem your points for and the number of points needed to get any particular prize. An old joke went that if you saved up a million points, you could get your very own 'Iron Lung'. Today, all such premiums are illegal in as they are seen as promoting smoking.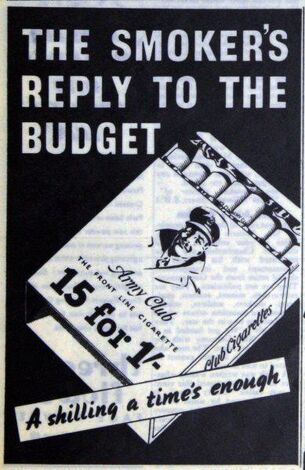 An ad for Army Club cigarettes. Note that the selling point seems to be the price.  The pack itself, with a picture of a soldier, could be said to look more "manly" compared to the Kensitas pack with its waiter.
Note the cigarette lighter like SM's and the Bryant & May Matches.